Description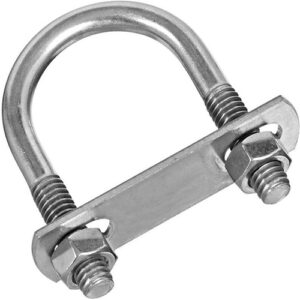 A u-bolt is a u-shaped curved bolt having threads on each end used as supports in the piping and pipeline industry.
U-Bolts are one of the simplest and widely used types of piping support.
They work mainly as Rest+Guide+Hold down support; though with a little installation change can be made to work as line stops as well.
U-bolts with their curved shape fit nicely around the pipes which are then secured with a secondary member using nuts.
They are easily available in various sizes and thicknesses.
The important dimensions of a u-bolt are shown in Fig.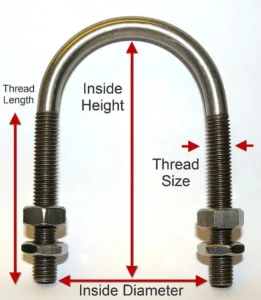 FAQ:
1. Can I get a sample?
A: Yes, we can provide samples for you
2. Can I ask to change the packing and shipping method?
A: Yes, we can change the packing and shipping method according to your request, but you have to bear the cost and price difference in the meantime.
3. Can I ask for early delivery?
A: This should depend on whether we have enough stock in our warehouse.
4. Can I have my own logo on the product?
A: Yes, you can send us your drawings and we can make your logo, but you must bear the cost yourself.
5. Can you produce products according to my own drawings?
A: Yes, we can produce products according to your drawings to your best satisfaction.
6. What are your payment terms?
A: T/T, Paypal for full protection of your order.
7. Do you accept custom design in size?
A:yes