Description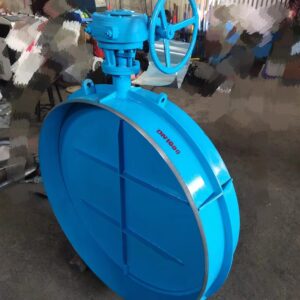 ※ Size Range: 1.5" -72.0" (40mm-1800mm) and so on
※ Temperature ranges: -4F-400F (-20C – 204C) and so on
※ Design STD.: 87 psig、150 psig、230 psig、250 psig
※ Material range: ductile iron, carbon steel, stainless steel, various alloys, etc.
※ Drive method:Manual, electric, pneumatic, hydraulic
Welded seal butterfly valve is also called high performance butterfly valve, which is basically the same as metal hard seal butterfly valve, except that the valve is welded on top of the pipe when it is connected, instead of being connected with the flange. It is mainly used in water plant, power plant, steel smelting, chemical industry and other projects. Especially suitable for steel plant gas pipeline, as a regulating and intercepting equipment. Compared with midline butterfly valve, double eccentric butterfly valve has longer life and good working stability, compared with other valves, the larger the diameter, the lighter the material, the lower the cost.
It is further improved on the basis of single eccentric butterfly valve. The structure is characterized by the axis of the valve stem being off from both the center of the butterfly plate and the center of the body. The effect of double eccentricity makes the butterfly plate quickly detach from the valve seat after the valve is opened, which greatly eliminates the unnecessary excessive extrusion and scraping between the butterfly plate and the valve seat, reduces the opening resistance, reduces wear, and improves the life of the valve seat. The substantial reduction of scraping also makes it possible to use metal seats for double eccentric butterfly valves, which improves the application of butterfly valves in high temperature fields.
Features.
– Valve body styles: clip-on, lug, and double flange
– Body materials: cast iron, ductile iron, nylon 11-coated cast iron or ductile iron, carbon steel, 304 and 316SS
– Body coating: standard two-part polyester epoxy, optional nylon 11
– Discs: Nylon 11 coated ductile iron, 304SS, 316SS, aluminum bronze, nylon 11 coated 316SS
– Seat: EPDM (food grade), Buna N, Viton, white EPT (food grade), Hypalon, silicone, neoprene
– Bearings: lower stem bronze or (optional) SS, upper (seated) SS, top Delrin
– Stem: 410SS, 304SS, 316SS, 17-4 Ph SS
– Mounting: ISO-5211 stem (small square) and mounting pad
– Drive: 14″ one-piece shaft, splined to disk attachment (VF7A), split shaft > 0″ with splined drive (VF7A)
– Stem Retention: 1.5″ to 12.0″ Q-pin slots in top gasket to retain SS through pins, 14.0″ to 48″ and all stainless steel valves have removable plates to retain SS through pins
– Working pressures: 87 psig, 150 psig, 230 psig Two-way gas-tight shutoff
– 5″-12.0″ lug rated 200 psig dead shutoff, 14.0″ and above lug rated 150 psig dead shutoff, test reports available
– Private label valves available
Specifications.
– End connections: 125/150 ANSI, butt clamps, lugs, flanges
– Wall thickness: ASME B16.34, AWWA C504
– Installation: ISO-5211 (for all ISO-5211 operators)
– Design: ISO-5208, AWWA C504, ASME B16.34
– Face-to-face: API-609, ISO-5752, AWWA C504 (54.0″-72.0″)
– Marking: MSS-SP-25